JEE-Advanced Result

- 2020
Reliable's 3 Students are in Top 30 AIRs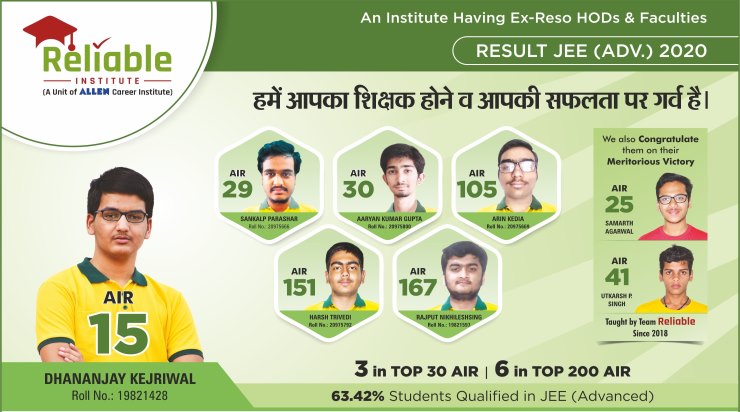 Reliable Institute has produced excellent results in JEE-Advanced 2020. Students who prepared for JEE-Main & Advanced under guidance of Reliable faculty team produced great results in JEE-Advanced 2020. Reliable team continued their good support & guidance to the students through various modes of digital communication in the testing times. Through this support, students remained connected with the faculty till the last moment & produced good results.
Institute's Student Dhananjay Kejriwal performed brilliantly & secured All India Rank - 15 While Sankalp Parashar Secured AIR-29 & Aaryan Kumar Gupta secured AIR-30.
Highlights of Result
3 students Secured All India Ranks in top 30 including AIR-15, AIR-29 & AIR-30.
6 students registered their names in Top 200 All India Ranks.
21 Students Secured All India Ranks in Top 500.